History - Family Owner and Operated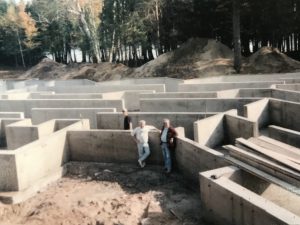 Paul Conard Construction specializes in concrete construction. Our "concrete reputation" has with held the test of time. We value each and every customer as Paul's parents did in 1958 when they founded the company as Ken Conard Construction.
Throughout the years Paul, his parents, his brothers and many other dedicated employees provided the craftsmanship for which the company is known. After many years of hard work and dedication Ken and Marilyn retired in 1997. Paul and his wife Sue took over the business renaming it Paul Conard Construction.
The company has expanded over the past years to meet the growing needs of our customers. We employ a very dedicated and talented group of people. The success of our company is directly related to the quality of our employees.
We believe our success begins within our organization and extends to our
customers through the quality of service we provide.
Memberships
Brown County Home Builders Association
Door County Home Builders Association
Manitowoc County Home Builders Association
Better Business Bureau
National Association of Home Builders
Wisconsin Builders Association
Concrete Foundations Association